(Following the dialogue on Stroll (Tuesday.) Month-to-month providers inflation after January 2020 is extra persistent than non-durable items inflation (0.68 versus 0.38). And core inflation for non-housing providers is much less persistent, at 0.50.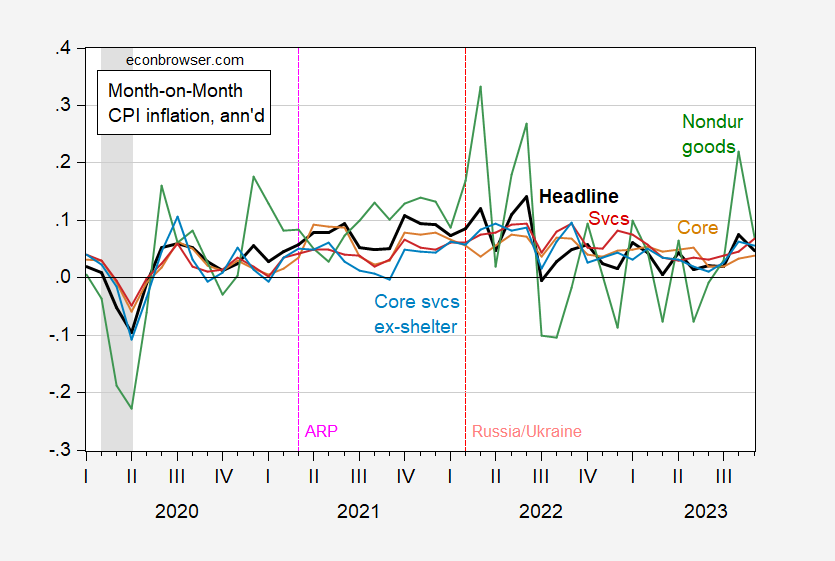 Determine 1: Month-to-month inflation of CPI (black), core (beige), non-durable items (inexperienced), providers (pink), non-shelter core providers (gentle blue), all annualized. The NBER has outlined the height to trough dates of the recession in grey. Supply: BLS, Pawel SkrzypczynskiNBER and creator's calculations.
Apparently, whereas the persistence of non-durable items is roughly the identical earlier than and after the pandemic, the persistence of providers is increased within the current interval (0.68 versus 0.42). In different phrases, the rating of inflation persistence by class just isn't invariant over the pattern interval, as one would anticipate since persistence just isn't a structural parameter.
In abstract, the AR(1) coefficients for every class (2020M01-2023M09) for m/m inflation are:
Title: 0.54
Core (52% of complete): 0.65
Sturdy items (12% of complete): 0.68
Non-durable items (26% of complete): 0.38
Providers (62% of complete): 0.68
Primary ex-shelter providers (27% of complete): 0.50
Supercore BLS (42% of complete): 0.58